Giant Wild Goose Pagoda
Categories:
Games
|
Published by:
admin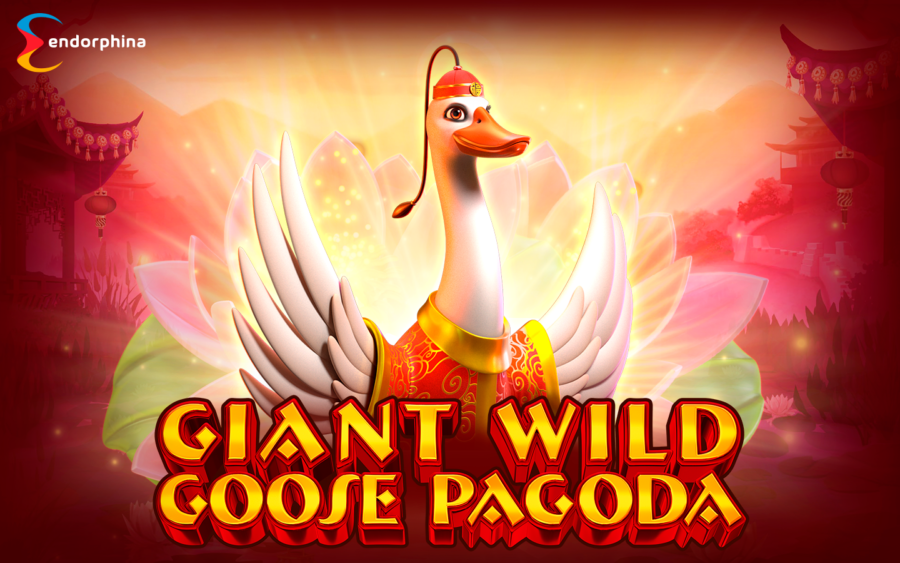 Introducing the captivating world of Giant Wild Goose Pagoda, the latest creation from the renowned online gaming provider, Endorphina. This whimsical adventure unfolds in a vibrant Asian setting, starring none other than a kung-fu master Goose as its charismatic protagonist. What truly sets this game apart is its remarkable visual presentation, sure to captivate even the most discerning of players with its premium animations.
Play Giant Wild Goose Pagoda here:
Not to be outdone, the game's soundtrack and music effects are nothing short of exceptional, offering players full control over their auditory experience through various in-game features. The gameplay itself is a thrilling, fast-paced ride, with the option to engage Turbo Mode for those seeking an even more electrifying gaming experience. For added convenience, players can effortlessly translate the game into 30 different languages and liberate their hands with the infinite Autoplay feature. Among the other exciting features awaiting players are Bonus Pop and Risk Game.
Gameplay and Paylines
Giant Wild Goose Pagoda boasts a playing grid composed of 5 reels and 4 rows, with a potential for up to 50 paylines. These paylines all originate from the far-left column and extend to the right across adjacent reels, offering players the flexibility to select from a wide range of configurations, including 1, 5, 10, 15, 20, 25, 30, 35, 40, 45, or 50 active lines. We highly recommend embracing the challenge of using them all for the most exhilarating experience.
RTP
When it comes to Giant Wild Goose Pagoda's Slot RTP and Bonus Features, players can expect an RTP ranging from 95.89% to 96.11%, depending on their chosen strategy. Should you decide to activate the bonus round using the buying feature, the RTP slightly decreases to a range of 94.70% to 95.22%. In any case, this game falls into the category of medium variance online slots, featuring a relatively high Hit Frequency rate.
Betting Range
The betting range is impressively extensive and hinges on the number of active win lines. The minimum bet stands at $0.01 per line, making it the lowest possible wager, while the maximum reaches $4 per line or a thrilling $200 per spin. It's important to note that this game does not feature progressive jackpots and imposes certain caps on winnings, so players are advised to check the casino's terms and conditions for payout limits.
Game Symbols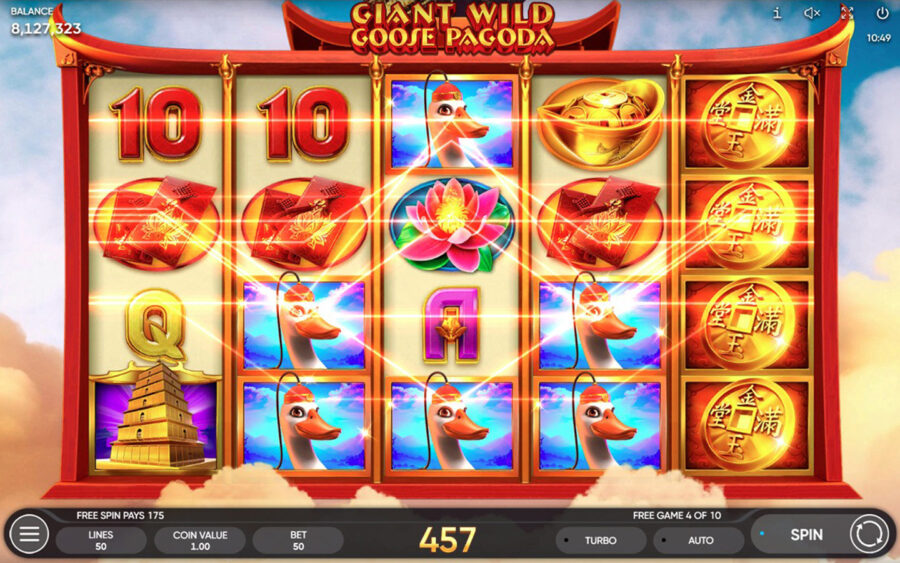 In the game, the Goose serves as a wild symbol and only appears on reels 2, 3, 4, and 5, effectively substituting for all regular symbols. Coins offer rewards ranging from 0.10x to 2x the initial bet, while Ingots and Cards grant payouts ranging from x0.10 to x1.50. Notably, these are the only symbols that pay for matching 2 to 5 symbols on a payline, while all other symbols require a minimum of 3 matches. The two elegant flowers also provide rewards of up to x1.50, while the minor symbols, A to 9, offer returns of up to x1.
Special Features
Giant Wild Goose Pagoda also brings an exciting Free Spins feature into play. Pagodas serve as the scatter symbols and exclusively appear on reels 1, 2, and 3. Landing a combination of three Pagodas in view not only rewards players with 2x the stake but also grants them 10 free spins enriched with sticky wilds. During this thrilling mini-game, the same combination adds an extra 5 free rounds to the remaining balance, and scatters that land behind frozen wild symbols still count towards triggering wins.
Free Spins
The Free Spins feature unfolds on a separate set of reels, significantly enhancing the chances of winning. However, it's worth noting that this feature, like in many other online slots, is somewhat elusive. Recognizing this, Endorphina has included a Bonus Pop option for the more impatient players, which comes at a cost of 57x the bet, but thanks to the scatter-triggered payout, it effectively becomes x55.
Risk Game
Last but certainly not least, Giant Wild Goose Pagoda offers a Risk Game, allowing players to potentially amass extra winnings in jurisdictions where this feature is permitted. After each win, players can take a risk up to 10 times in a row for a shot at doubling their earnings. To play, simply select one of four cards in hopes of beating the Dealer's card, with the Joker serving as the ultimate trump card. It's important to note that the Risk Game is disabled when Autoplay is active.
Conclusion
In summary, Giant Wild Goose Pagoda invites players into a world brimming with magnificent visual effects and lighthearted gameplay. Asian themes have long been a favorite canvas for skilled game developers, and Endorphina delivers a delightful interpretation of this genre. While the competition in this space is fierce, the simplicity of Giant Wild Goose Pagoda's bonus features serves as a refreshing departure.
This title offers an abundance of entertainment value, complete with beloved bonuses such as free spins and sticky wilds. However, it's worth mentioning that the base game may feel a bit lacking, and the Risk minigame doesn't necessarily compensate for this gap. Perhaps the addition of a jackpot feature could elevate the overall experience. Nevertheless, we wholeheartedly endorse this game and recommend it to all slot enthusiasts seeking a captivating and visually striking adventure!
Relevant news